Libération pour Ahmad Saadat, Georges Abdallah et tous les prisonniers palestiniens.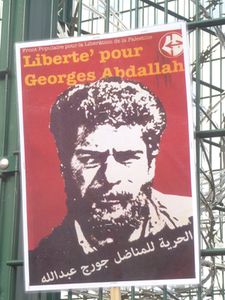 Khaled Barakat, coordinateur de la campagne pour la libération d'Ahmad Saadat, s'est adressé aux manifestants venus exiger, le 25 octobre, la libération de Georges Ibrahim Abdallah devant la prison de Lannemezan où il vient d'entamer sa 31e année de détention. Il était intervenu également la veille, au meeting organisé à Toulouse par le comité anti-impérialiste Coup Pour Coup, aux côtés de Charlotte Kates, membre de Samidoun. Ci-joint l'essentiel de son intervention. A lire sur le site du FPLP.
Barakat : International solidarity with Georges Ibrahim Abdallah is growing and must be intensified
"International solidarity with George Ibrahim Abdallah, who has just entered his 31st year in French prisons, and with the Palestinian prisoners in the occupation jails, is growing," said Comrade Khaled Barakat. "The coming days and weeks are vitally important for the freedom of Comrade Abdallah, and solidarity action must be intensified."
Comrade Barakat, who addressed the crowd in front of the prison in Lannemezan, France, where Comrade Abdallah is held, on Saturday, October 25, emphasied that Abdallah's freedom can only come through continuous organized pressure against the French government, the United States and Israel. "The responsible parties for Georges' continued captivity form the triangle of imperialism and Zionism: the United States, France and Israel," Barakat said.
Barakat carried a message from imprisoned PFLP General Secretary, Comrade Ahmad Sa'adat, to the French solidarity movement with Palestine: "It is necessary for those who stand in solidarity with Palestine to stand with Georges Ibrahim Abdallah and work to secure his freedom. French imperialism, which has failed to break the will of Georges Ibrahim Abdallah for 30 years, will not succeed in its goals and will continue to fail."
On November 5, the French courts will issue their latest decision on Abdallah's freedom. He has been granted parole on multiple occasions only to see his freedom blocked by the intervention of high-ranking French government officials, the United States and Israel. A demonstration will take place at the French embassy in Beirut on November 5. "It is important for people to come out on November 5, around the world, and in the days to come, to stand with Georges Abdallah and the cause of freedom. Massive popular pressure is critical to breaking the chains imprisoning this revolutionary struggler for freedom. November 5 must be an important day of action on the calendar of the international movement in solidarity with Palestine," said Barakat.
Various actions have been taking place around the world, in Beirut, Amman, Tunis and cities throughout Europe and North America in solidarity with Palestinian political prisoners in Palestine and demanding the immediate freedom of Abdallah from French prisons, said Barakat.
"These actions have been successful in raising the profile and effectiveness of the campaign to free Georges Ibrahim Abdallah. This is taking place due to the steadfastness of Comrade Abdallah, the commitment of his family in Lebanon struggling for his freedom, the International Campaign to Free Georges Ibrahim Abdallah, and organizations such as Coup Pour Coup, the Collective for the Liberation of Georges Abdallah, and the Campaign to Free Ahmad Sa'adat," said Barakat.
Barakat quoted Abdallah's most recent letter from prison to the meeting held in Toulouse on September 24, organized by anti-imperialist collective Coup Pour Coup. Comade Abdallah wtote to us saying that "Knowing that you are together, tonight in Toulouse, for this event called by Coup Pour Coup, gives me strength and makes me happy. It reinforces my conviction that we can move together, on the march in the struggle against capitalism and imperialism…As you can see, comrades, beyond the barbed wire that separate us physically, we are still together."
"As is clear from his letter, Comrade Georges Abdallah has a strong spirit and determination, and commitment to principle, which itself strengthens the movement for his freedom, just as that movement provides support for his steadfastness. His spirit and strength of will inspire further action," Barakat said.
"These words can only come from a strong will, from a comrade who is assured of victory and who believes deeply in the essence of international solidarity. Just like the case of Comrade Ahmad Sa'adat, the case of Comrade Abdallah exposes the complicity of all forces in the enemy camp that confronts the movement for Palestinian liberation. Remember, when Comrade Sa'adat was imprisoned in the Palestinian Authority's prison in Jericho, it was British and US jailers who kept him behind bars. Today, Ahmad Sa'adat and Georges Abdallah are leading the Palestinian and Arab revolutionary left that is confronting imperialism, Zionism and oppression, and most importantly, providing a real alternative, and a democratic and revolutionary pole of action," said Barakat.
Further, Barakat noted, "held alongside Georges Abdallah in Lannemezan prison are political prisoners of the Basque struggle. The issue of political prisoners is quite serious for the Basque people; there are 450 political prisoners of the Basque movement, held far away from their families and their communities where they cannot receive family visits. It is not incidental that today we also witness occupation policies that are systematically denying family visits to our imprisoned comrades. The family of Georges Abdallah has been denied access to France to visit their brother."
"This is a calculated policy to deny political prisoners access to their families. The goal of imperialists, Zionists and reactionary regimes and fascist states is to isolate the leadership of the liberation movements from the masses – it is not only about families, but about the people themselves," said Barakat.
"To be honest," Barakat continued, "it is a shameful act by the French government to imprison George Abdallah for 31 years. From now on, it will also be our shame if we accept this in silence. We cannot allow this imprisonment to continue. George Abdallah is not an individual who committed a crime. He is a fighter for freedom and liberation. People like Georges Abdallah should be honored and celebrated, not imprisoned. History will record that France has imprisoned a true struggler in its prisons for decades, and has committed this crime against a great human, whose cause is justice, who defends a just cause, and who has maintained his revolutionary commitment despite everything."
★ Quelques extraits ( en vert) ont été lus par le CLGIA lors de la soirée Free Palestine, suite à la présentation de Georges Ibrahim Abdallah par son avocat, Jean-Louis Chalanset.